Wealth Management vs Private Banking
If you have over $10 million in liquid assets, then we strongly recommend reading our guide on how to find the best financial advisor for managing your wealth.
At its core, the question of wealth management vs private banking is a question of purpose. Each serves a different purpose as you'll see in a bit. Many people therefore use both wealth management and private banking at the same time.
We'll begin with the 'nutshell' explanation. If you need more detail you can continue reading beyond. And you can reach out to Pillar Wealth Management to start a conversation with a high net worth wealth manager that exclusively serves clients who have between $5 million and $500 million in liquid net assets.
The simple explanation is this:
Wealth management typically focuses on your long term financial security. A wealth manager seeks to provide that by developing a plan that incorporates all aspects of your financial affairs, including investments and money management but also including estate planning, tax minimization, real estate, business, company stock, retirement, and the fulfillment of your lifelong dreams and ambitions. It is all-encompassing and if you're working with the best wealth managers, it will be customized to your specific life situation, goals, and needs.
Private banking services, on the other hand, offer all the same services you would expect to see at a bank, and can also include investments and other services for its clients if you want to access them, but at a much more limited level as compared to wealth management.
Private banking is a service. Wealth management is a partnership.
So if you want to enhance your banking experience and access some exclusive financial services reserved for high net worth individuals, private banking is the usual path for pursuing this.
If you're looking for focused attention on your investment plan, portfolio, and the achievement of your other financial and lifestyle goals, then you want to look for a wealth management firm such as Pillar, which serves ultra high net worth clients across the nation.
That's the short explanation. If you need more – keep going.
What Is Private Banking?
Private banking is essentially like regular banking but on steroids, to use the common expression.
You still get savings, checking, and CD accounts, but you get served by a personal banking representative who you can reach by phone without having to sift through all the usual channels.
You'll also probably earn slightly higher interest rates, access to additional perks and services, and probably some customized banking solutions.
Private banking enables you to do the usual mundane processes such as bill paying, the use of safe deposit boxes, setting up mortgages, and all the rest. And, you'll likely pay lower fees (or none at all), get access to special lines of credit and exclusive loan terms, and receive prime rates. If you own a business that imports or exports, you may receive discounted foreign exchange rates.
So if you are a high net worth individual and want a banking experience that reflects the greater value your patronage represents, you might want to look into private banking.
Now, private banking can also include many of the services that are typically offered by wealth management firms. These include retirement planning, estate planning, tax planning, and financial planning.
However, this is where private banking's limitations emerge, and where wealth management supersedes it in what it can offer you. More on wealth management in a bit.
Here's another summary of services typically offered through private banking.
If you are interested in finding out how wealth managers help overcome these limitations, we suggest you order a free copy of our hardcover book, The Art of Protecting Ultra-High Net Worth Portfolios and Estates – Strategies For Families Worth $25 Million To $500 Million.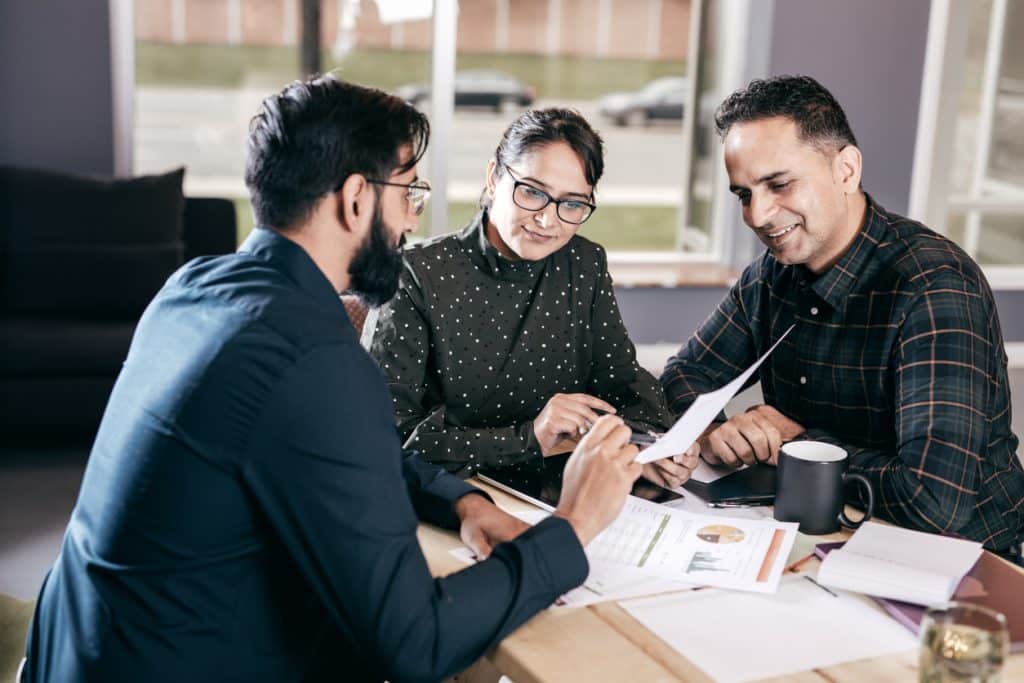 Pros and Cons of Private Banking
The single best advantage of private banking is that you can do all your banking tasks in one place, including the less common but more consequential ones like securing a mortgage. And with a dedicated banking employee working with you, you get to talk to the same person every time.
Private banking also affords you increased privacy. And with the special access to favorable rates, discounts, and higher interest rates on your savings, money market, and CD accounts, the conveniences, and perks offered by private banking look pretty attractive to a high net worth individual.
However, consider the limitations of private banking as well.
If you're lured by the option of also accessing wealth management services through private banking, you'll find considerably less expertise in those areas at your bank. The top money management and investment planning experts do not work in private banking. They work as wealth managers. They don't want to spend their time helping clients pay bills and set up CDs.
So you will not be benefitting from the financial performance expertise that most high net worth individuals need. This shortcoming extends to any related services such as estate planning, retirement planning, and tax planning. Again, top experts in these specialties do not work at private banks or any financial institutions.
For this reason, private banking departments experience higher turnover. Those private bankers who want to get into money management will jump at it when the opportunity arises. So your best private bankers will be continually departing for greater opportunities.
Also, private bankers are not fiduciaries. Though they may offer personalized service, they also serve their bank's goals and follow their bank's procedures. So, the financial performance of private banking clients is not their number one priority or best interest.
To learn more about how this can hurt your investment goals, click here to read our guide on the 5 critical shifts that enhance portfolio growth.
Here's a quick summary of private banking vs wealth management:
Pros of Private Banking:
– One-stop personalized banking
– Dedicated banking employees, bypassing usual channels of service
– Increased privacy
– Better rates, terms, perks, and options
– Exclusive access to opportunities
Cons of Private Banking:
– Less wealth management expertise
– High turnover and churn of best bankers
– Not fiduciaries, possible conflicts of interest
– Increased regulations since 2008 making it harder to certify new bankers
If you are interested in learning more about this, click here to speak to one of our wealth managers today.
What is Wealth Management?
In contrast to private banking, wealth management firms don't offer typical banking services. We are different from private banks. You don't deposit money, or get checking accounts, or set up CDs, or get mortgages through a wealth management firm.
Wealth management advisors devote their efforts to stewarding your finances and investment portfolio to help you optimize your wealth and improve your financial plan.
A wealth expert is a person you'll collaborate with to invest your liquid assets. This should encompass three main categories: Equities, bond investments, and cash accounts like savings, certificates of deposit, and money markets. It can also include real estate and commodities, but the core focus typically includes some combination of money, bonds, and equities.
Wealth managers are a specialized version of financial advisors, in that they typically serve only with high net worth or ultra-high net worth clients.
Are All Wealth Managers Basically the Same?
No. As in any profession, you may find some people doing what they've been taught to do either at school or at a previous firm, and you will find others who have developed their own investment planning processes and systems based on years of experience and concern for their clients.
Pillar falls into this second category.
If you need advice in finding the very best wealth expert or financial advisor for you (and it might not be Pillar), we created a free eBook, The Ultimate Guide for Choosing the Best Financial Advisor for Investors with $10 Million to $500 Million Liquid Assets.
This unparalleled resource will walk you through the seven warning signs that you might be talking with an advisor who will fail to reduce your anxiety or uncertainty about your financial future. You'll also discover the five (and only five!) areas of financial planning under your control, and why it's so important to know what they are.
You'll see examples of real clients who have risen and fallen based on the wealth management and financial advice they received.
For high net worth clients, in particular, you'll learn the five non-negotiable qualities you must demand from whichever wealth expert you decide to work with.
Packed with data, examples from history, and surprising revelations about the hidden costs some wealth managers (and private bankers) won't tell you about, you'll also learn the truth about risk tolerance, the shortcomings of trying to actively manage all your investments, and so much more.
It's a complete guide to finding a financial advisor or wealth manager.
Get your free Ultimate Guide here
How Do Wealth Managers Work?
For Pillar, we provide a free Wealth Management Analysis for our clients, which you can schedule here.
Here, we'll use your lifestyle goals and dreams, financial needs, and current family and work circumstances to create a highly customized service. But please note: We only work with high net worth individuals with over $5 million in liquid assets.
Get more details here about the holistic wealth management services provided by Pillar, and how our process differs greatly from that of big private banks as well as most other wealth managers.
You can talk to one of our wealth managers in a free consultation session and get all the information you need.
What Other Services Do Wealth Managers Offer?
This is actually one area with a lot of variation. Not all wealth managers offer the same additional services. Some focus exclusively on managing your portfolio and investments.
Pillar also offers many other services that high net worth clients need help with at critical moments of their lives, including:
– Tax accounting and strategic planning
– Retirement planning
– Legal planning
– Estate planning
– Risk management
– Trust services
– Banking services
– Philanthropic planning
These services come at no extra cost to our clients. Reach out to Pillar to schedule a free, no-strings-attached conversation about your financial goals.
Is It Worth Paying a Wealth Manager?
If you have high or ultra high net worth and want to have comprehensive financial services like we've described, hiring a wealth manager is the way to get them. However, before you decide to hire a professional advisor, there are some aspects that you need to take into consideration.
The first thing is the minimum asset requirement. Hiring a wealth advisor is not merely opening an account and asking for wealth management. Some companies ask you to have at least $250,000 or more when opening an account. Pillar Wealth Management has a $5 million minimum.
There are at least 10 questions to ask any wealth manager before you work with them. See all 10 questions and the answers you want to hear.
Learn more about what wealth management is and how to find the right firm.
If you want to learn how wealth management helps with portfolio performance, click here to read our guide on the subject.
The Final Word on Private Banking vs Wealth Management
Some private banks offer services to "wealth management private banking clients." By mixing these terms together, they are sowing confusion and clouding the very stark differences between wealth management and private banking.
Private banking is procedural; wealth management is strategic.
One is a service. One is a partnership, forged to help you live your life in the best possible way, secure your future, and protect your wealth. They are not in opposition. They are complementary services serving distinct needs.
When you try to mix wealth management and private banking, you may end up with a vastly diluted quality of service in your wealth management, and your confidence in your future will be strained and uncertain. Your best advice is to use these complimentary services for the purposes they were created for.
Click here to arrange a free consultation session and learn more about the benefits of having a dedicated wealth manager on your team.
To be 100% transparent, we published this page to help filter through the mass influx of prospects, who come to us through our website and referrals, to gain only a handful of the right types of new clients who wish to engage us.
We enjoy working with high net worth and ultra-high net worth investors and families who want what we call financial serenity – the feeling that comes when you know your finances and the lifestyle you desire have been secured for life, and that you don't have to do any of the work to manage and maintain it because you hired a trusted advisor to take care of everything.
You see, our goal is to only accept 17 new clients this year. Clients who have from $5 million to $500 million in liquid investable assets to entrust us with on a 100% fee basis. No commissions and no products for sale.