Personal Investment Management Services – PillarWM
The Complete Guide to What We Do
What Is Personal Investment Management?
Individuals that enjoy a high net worth or an ultra-high net worth often seek out personal investment management services. If you have never explored these services before, you may be wondering, "What do you mean by investment management"?
Investment management refers to a collection of services related to investments. This includes asset allocation, portfolio analysis, and portfolio strategy implementation.
Investment managers typically provide these services. However, they are also offered by our wealth managers. Sign up for an exclusive free consultation to learn more about our investment management services.
How Can I Benefit From Personal Investment Management Services?
Anyone with a high net worth or an ultra-high net worth can benefit from using investment management services. Wealthy investors seek out these services for the following reasons:
Expanding Your Portfolio
If you have ever studied the portfolios of mature investors, you may notice that they often possess a wide variety of assets. These assets are often acquired in an on-going effort to expand their portfolio.
So why would you want to expand your portfolio? One of the main reasons is because it offers you multiple chances to grow your wealth. However, to achieve the best results, you will need to invest in the right assets.
An investment manager can help you expand your portfolio with assets that help your wealth grow. We discuss some portfolio growth strategies in our special guide.
Learning Which Assets to Invest In
Everyone has an investment approach that they favor. Some like taking risks regularly, while others prefer to play it safe. However, no investor has perfect knowledge of markets. This can make it challenging to decide where to invest. However, this is also where an investment manager may be useful.
A good investment manager possesses an in-depth knowledge of different sectors and can help you choose assets that fit your portfolio. They can also offer their expertise when you are interested in overhauling your portfolio and trying something new. This makes personal investment management services invaluable for investors at each stage of their portfolio growth.
Setting up Passive Income Sources
Everyone dreams of enjoying a wealthy retirement where they never have to worry about running out of savings. You can achieve this with the help of a proper retirement plan. This is also one area where investment management may be useful.
Bankruptcy during retirement may not be a concern for individuals with a high net worth or an ultra-high net worth. However, they may need to cut back on certain luxuries once they are no longer earning an active income. This is usually to make their savings last as long as possible. However, it is possible to grow your wealth, even in retirement.
An investment manager or a wealth manager can help you choose assets that provide passive income during your retirement. This income can help sustain you and your family into the future and possibly even grow your wealth. Contact our wealth managers to learn how your investments can help you secure a comfortable retirement.
Achieving Your Investment Goals
You may have certain investment goals that you wish to achieve by a certain age. However, you may be unsure about how to achieve these goals. This can be a common problem for investors, even experienced ones.
An investment manager can help bring your portfolio into alignment with your future investment goals. They can create a manageable strategy that takes your past investments into account and leads you to wherever you wish to go. Read our special guide to learn ways to improve your portfolio performance.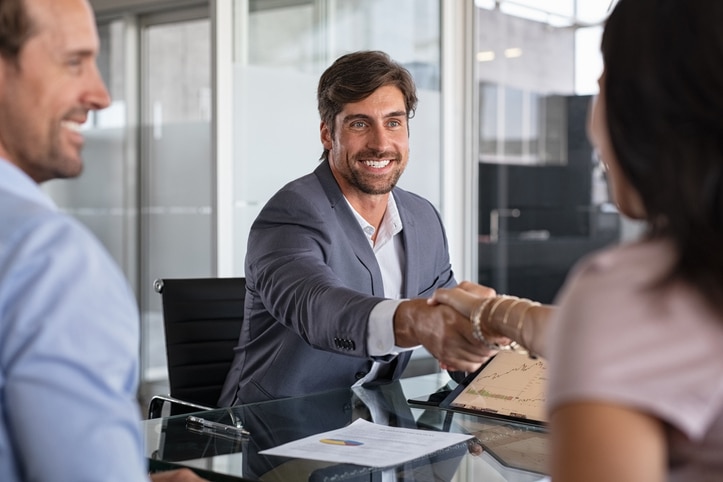 Why You Should Use a Professional Investment Manager
If you have been managing your investments yourself for many years, you may be prompted to ask, "why should I avoid managing my own investments?". After all, you understand your own investments and financial goals better than any else does. However, there are numerous reasons to consider seeking assistance from a professional.
Being Able to Focus on Other Activities
Some people enjoy investing as a hobby, while others view it as a means to grow their wealth. If you consider yourself to be in the latter category, you may prefer leaving your assets in the hands of a knowledgeable and reliable individual, such as an investment manager. This will free you from worrying about your investments and enable you to focus on other wealth-building activities.
Identifying Risks
In your quest to grow your portfolio, you may rarely look back at your previous investments. Some of these investments could become prone to certain risks over time. However, you may not even be aware of them. We discuss these risks in our book The Art of Protecting Ultra-High Net Worth Portfolios and Estates – Strategies For Families Worth $25 Million To $500 Million.
An investment manager or a wealth manager can study your portfolio and identify any risks that are present. They can then create a strategy to help you avoid them or minimize the damage they can do.
Keeping Track of Changes
Reviewing each of your investments on a regular basis can be a time-consuming task. However, it is essential given the ever-changing nature of different market sectors. You can delegate this duty to a professional investment manager or a wealth manager. They can keep track of any changes and update you on significant developments you need to be aware of. Set up a free meeting with our wealth managers to learn how you can stay up to date with portfolio developments.
Investment Manager vs. Investment Advisor: What's the Difference?
When looking for investment management services, you may stumble across many investment advisors. So what is the difference between an investment manager and an investment advisor? Both of these professionals operate in the finance industry. However, there are certain differences between them.
Duties
Investment managers handle multiple duties related to your portfolio. This includes buying and selling assets on your behalf, analyzing your portfolio, and creating strategies to meet your investment goals.
Investment advisors play a more limited role with regard to investment management. They may offer investment advice and point towards different assets worth investing in. However, they may not provide long-term portfolio planning services, which can be crucial for high net worth or ultra-high net worth individuals. If you opt for the services of an investment advisor, you will need to offer your approval for each buying or selling decision.
Approach to Investment
Investment managers may also take a different investment approach compared to investment advisors. They may make decisions to help you meet certain investment benchmarks. This is in contrast to an investment advisor who offers advice on each investment without looking at how they fit into your portfolio.
How to Pick the Right Asset Manager
If you have chosen to use investment management services, you may be interested in finding a suitable asset manager. You can discover various asset managers in your area by searching online. After you have created your list of possible candidates, you may wonder, "what qualifications should I look for in my asset manager." You can narrow your selection by looking for these qualifications:
Experience
Any professional managing the portfolios of high net worth or ultra-high net worth individuals should possess experience. An experienced asset manager will have assisted numerous clients in improving their portfolios. During this process, they may have also witnessed the ups and downs of different market sectors. Having experience with such events is essential if the asset manager's goal is to build a resilient portfolio.
Knowledge
Asset managers typically possess a degree in business, finance, or any other related field. This can make it difficult to discern if one asset manager is more knowledgeable than another. However, there are ways to gauge the depth of your asset manager's knowledge.
You should ask them to study your portfolio and how they can help you achieve your investment goals. It's best to avoid asset managers who offer generic one-size-fits-all type solutions. The right asset manager will provide more specific solutions that take your unique financial position and portfolio into account. You can also ask them some of the questions outlined in our guide to choosing a financial advisor.
Track Record
Experience can be important when choosing an asset manager. However, experience alone doesn't tell you about their ratio of successes to failures. For this reason, you should look up ratings and reviews for each asset manager online. Read through reviews left by their past clients on independent review sites.
It may also help to seek out reviews from clients who have a similar financial background to yours. This should help you attain a better understanding of their track record and how well-suited they are to serve you.
Why You Should Use Pillar Wealth Management
We have discussed the numerous advantages of using an investment manager to manage your portfolio. However, individuals with a high net worth or an ultra-high net worth may benefit from using investment management services from a wealth manager. Some reasons to use a wealth manager include:
Number of Services
At Pillar Wealth Management, our wealth managers offer a wider range of services than investment managers. This includes services related to retirement planning, estate planning, wealth transfers, and risk management. Each of these services plays a role in helping you towards your financial goals.
When used in combination with investment management, you can achieve goals such as securing a comfortable retirement or leaving a large inheritance for your children.
Understanding the Needs of Wealthy Investors
Our wealth managers deal exclusively with clients that have a high net worth or an ultra-high net worth. This means they are familiar with the unique needs and requirements of wealthy individuals. This also makes them knowledgeable about the various investment strategies that wealthy investors use. You can learn more about our strategies in our guide for investors with $10 million or more.
Personalized Plans
We offer clients personalized plans that fit with their unique portfolio and needs. This is in contrast to investment advisors who use a one-size-fits-all investment approach. Our wealth managers understand the importance of assessing each client individually and offering tailored solutions to help them achieve their goals.
Experience
At Pillar Wealth Management, we have over 60 years of experience in serving wealthy clients. This experience has enabled them to expand their knowledge and improve the quality of their services over time. Sign up for an exclusive free consultation at our website and get started with optimizing your portfolio.