Personal Investment Companies: Do You Need One? PillarWM
Many high net worth and ultra-high net worth individuals choose to invest their wealth in multiple financial products. This is a great technique for them to preserve their wealth and even grow it further. If you are part of the millionaire, or billionaire, club and want to secure your assets and boost your net worth, you should hire the best personal investment companies. These companies will help you make the best investment decisions so you can enjoy financial stability for the rest of your life. If you wish to invest $5+ million of liquid investable assets, don't forget to request our newly launched book,7 Secrets to High-Net-Worth Investment Management, Estate, Tax, and Financial Planning.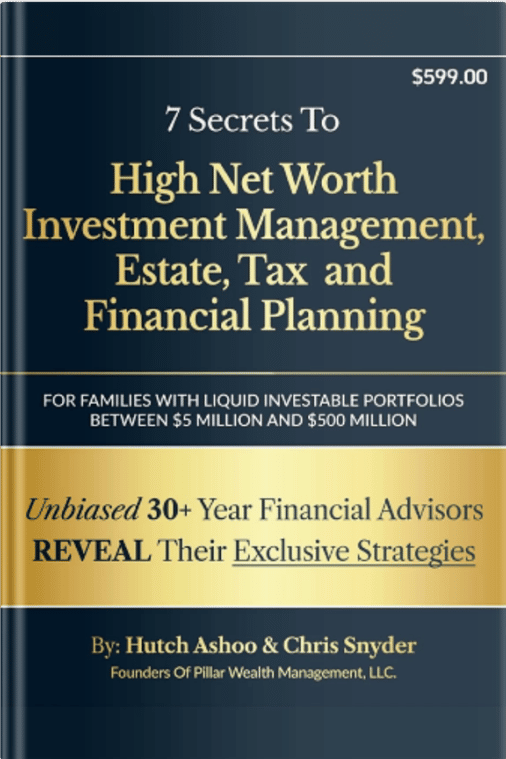 STRATEGIES FOR FAMILIES WORTH $5 MILLION TO $500 MILLION
7 Secrets To High Net Worth Investment Management, Estate, Tax and Financial Planning
The insights you'll discover from our published book will help you integrate a variety of wealth management tools with financial planning, providing guidance for your future security alongside complex financial strategies, so your human and financial capital will both flourish.
Clients frequently share with us how the knowledge gained from this book helped provide them tremendous clarity, shattering industry-pitched ideologies, while offering insight and direction in making such important financial decisions.
At Pillar Wealth Management, we have been offering numerous financial planning, financial advisory, and wealth management services, including investment and portfolio management. Our team of wealth managers has been providing exclusive services to individuals and families with $5 million to $500 million for more than three decades now. Our extensive experience, coupled with our skills and expertise, allows us to devise complex investment plans and strategies that best meet your needs while also lowering risks and optimizing costs. We make use of historical financial data that goes back nearly a hundred years to test our investment portfolios in several situations and improve them accordingly. Set up a free introductory meeting with our team and kick start your journey to financial stability and serenity.
What Is Personal Investment Companies?
Wealthy individuals often use personal investment companies to achieve their financial goals and enhance their financial circumstances. If you have never utilized these services before, you might wonder, "what is personal investment companies?"
Simply stated, a personal investment company is a corporation or trust that invests investors' capital in numerous financial instruments. These companies are monitored by the Securities and Exchange Commission (SEC) to make sure they comply with the 1940Investment Company Act.
Personal investment companies are basically business institutions, owned both privately and publicly, that market, handle, and sell investments and financial products to their clients. The main task of personal investment companies is to keep and handle securities for investment reasons. Additionally, they also provide their clientele with various funds and investment services, such as portfolio management, custodial, accounting, legal, tax management services, and record keeping.
Personal investment companies are also known as fund management companies as they can work with third-party distributors to sell mutual funds. A fund manager or business manager creates an adequately diversified portfolio after choosing lucrative markets, businesses, industries, and other financial instruments. Depending on their skills, experience, and expertise, these managers can implement strategies that maximize your portfolio performance.
Nevertheless, investment firms aren't the only entities that possess that skill. Our wealth managers are incredibly skilled at maximizing investment performance and reducing investment risk. Schedule a free consultation with us and learn more about how our team can improve your investment performance.
At What Point Should You Get A Personal Investment Company? 

     
Suppose you are a wealthy family or individual with liquid investable assets valued between $5 million to $500 million. In that case, you should immediately get a personal investment company on board to help you make the best financial and investment decisions. People with less than $1 million can also significantly benefit by working with a personal investment company, thus increasing their net worth much sooner.
However, high net worth and ultra-high net worth individuals and families could be jeopardizing their wealth every day that they attempt to manage it independently. Hence, if you are such an affluent individual, you should consult with a personal investment company right away. Sign up for a free consultation with one of our team members and find out how we can help you attain financial stability.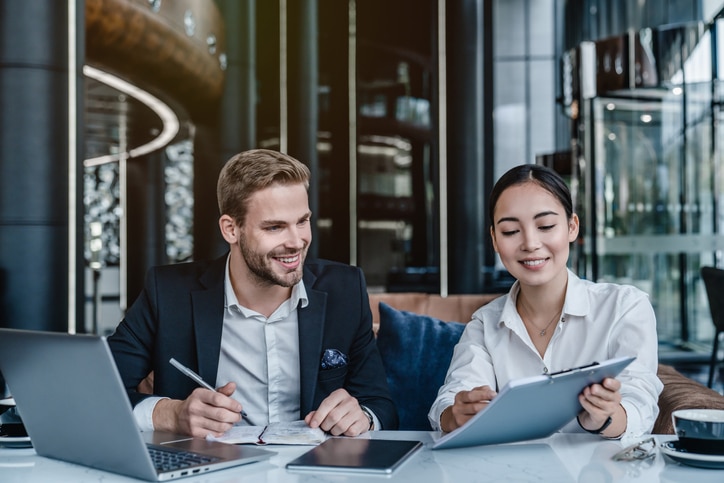 Do You Need Personal Investment Companies?
The age-old question – do you need personal investment companies? Deciding whether to work with personal investment companies or handle your own investment is a major decision, to say the least. Not everyone requires an ongoing relationship with a personal investment advisor or a financial planner.  But several investors, particularly those with a high net worth or an ultra-high net worth, who would benefit from hiring a personal investment company don't seek professional help or wrongly assume that they don't need it.
If you are also stuck in the same dilemma, here are some signs that indicate that you do need to use a personal investment company.
1. You Don't Have Sufficient Information Regarding Investment Opportunities
As a rich investor, you might want to expand your portfolio by investing your wealth in new investment products. You can purchase more of the assets you already own, or you can invest in a completely new product. While the second option might allow you to enjoy higher gains, it will even expose you to a higher degree of risk. Thus, investing blindly in a new or unfamiliar market can be dangerous if you aren't careful.
On the bright side, a personal investment company can guide you about how to invest in new investment products. The managers at such firms spend a lot of time learning about the numerous financial markets and analyzing their trends. This makes them very knowledgeable when it comes to offering investment recommendations. The top personal investment company can help you select the best investments to safely expand and improve your portfolio. If you are interested in learning more about some effective portfolio growth strategies, make sure to read our guide here.
2. You Are Not Sure About How to Allocate Your Assets
Asset allocation is one of the most popular investment techniques that creates an optimum balance between investment rewards and risks. Unfortunately, this is not something you can master on your own, and doing so will put you at high risk of losinga significant sum of your wealth.
Personal investment companies that are well-educated about high-value investments and who understand the goals of wealthy individuals and families can help improve your portfolio to attain the maximum level of returns.
Optimal asset allocation allows you to effectively work towards your financial objectives and even works to safeguard your wealth from market volatility and risks. Get a free copy of our book, The Art of Protecting Ultra-High Net Worth Portfolios and Estates – Strategies for Families Worth $25 Million To $500 Million, and find out why asset allocation is king.
3. Your Tax Burden Is Soaring
Perhaps the only pitfall of getting high investment returns is the exorbitant taxes you need to pay on them. All the stocks you have purchased might have resulted in incredible gains over the year, but they may also have led to a significant tax burden. Since taxes and investments go hand in hand, a well-devised and comprehensive tax planning strategy can help you potentially save thousands of dollars.
A personal investment company can help you with tax planning. They will thoroughly review every detail of your investment choices, including their impact on your tax liability. As a result, they might move around your investments to effectively lower your tax burden.
Such companies even use tax-loss cultivation strategies, where they use losses to offset some investment gains to reduce your tax burden. If you have invested $5 million or more, request a copy of our book, 7 Secrets to High Net Worth Investment Management, Estate, Tax, and Financial Planning to find out how you can successfully lower your tax bill.
4. You Want to Secure Your Wealth from Market Risks
Accumulating millions of dollars is a job that requires time, effort, and plenty of resources. Having invested so much energy into it, you will undoubtedly want to ensure that the wealth empire you have built stays safe and secure. There are plenty of frightening stories of high net worth and ultra-high net worth individuals who suddenly lost a huge chunk of their wealth due to some abrupt market shift that they hadn't thought of.
If you don't know how to secure your wealth from market volatility and risks, you need a personal investment company that can mitigate your investment risks. In a nutshell, investment risk management is the secret to consistent, safe, and sustainable returns in every market condition. Many investors fail to realize that without a comprehensive risk management plan, they are just one wrong investment decision away from losing their wealth.
By having a personal investment company manage your investment risks, you can considerably lower the odds of financial destruction. If your goal is to attain financial stability and security, then getting risk management services from one of the best personal investment companies should be your main focus. Keep in mind that you cannot secure or grow your wealth when you are busy losing it.
5. You Don't Have Time to Manage Your Investments
As a high net worth or an ultra-high net worth investor, even if you possess the requisite skills and knowledge to curate suitable investment and portfolio techniques, you might not have the time required to manage it properly. For instance, you may be busy running your own company, working your estates, traveling the world, or just spending time with your family.
Therefore, you won't have the time needed to manage your investment portfolio. You won't be able to review your investment performance and make the necessary adjustments frequently. In such cases, you need a personal investment company that can take up the task of managing your investment portfolio so you can spend your valuable time engaging in something you truly love.
Why You Should Enlist Pillar Wealth Management
Personal investment companies can help you attain your short and long-term financial objectives. However, wealthy individuals and families can immensely benefit from working with a wealth manager and availing the investment management services they offer.
Here are some reasons why you should opt for Pillar Wealth Management.
1. Years of Experience
Experience is paramount when judging the credibility of a financial firm and financial advisors as it allows them to comprehend what high net worth and ultra-high net worth clients genuinely need. At Pillar Wealth Management, our team possesses a combined experience of over sixty years in assisting wealthy clients attain their investment and financial goals. This experience has helped us in expanding our knowledge base and enhancing the quality of services we deliver.
2. Customized Investment Plans
We provide all of our clients with customized investment plans and strategies that are aligned with their unique requirements and investment portfolio. This is in stark contrast with the major Wall Street investment firms who use a cookie-cutter investment approach for all their clients, without paying any attention to their individual needs and financial situation.
We acknowledge the value of assessing each client individually and offering customized solutions to help them attain their goals. In fact, we only took 17 new clients the past year, so that we had sufficient time to draft a personalized financial strategy for each client.
3. Combine Passive and Active Investment Management
A common question regarding investment management is 'are actively managed or passive investments better?'The answer is that it depends!
For instance, active investment management can result in high gains but at the cost of higher taxes, management fees, and risks. On the other hand, passive investment management aims to replicate the market index and focuses on generating long-term profits with lower risks. This results in lower fees and taxes. In our detailed guide, Improving Portfolio Performance, we elaborate on the differences between the two investment approaches.
At Pillar Wealth Management, our team aims to create the right balance between passive and investment management techniques to help you get the best of both worlds. Hence, you can benefit from high investment returns while bearing minimal risk and incurring minimal costs.
4. Number of Services
Our team specializes in providing a number of services that surpass those offered by personal investment firms. These include services related to legacy and estate planning, wealth transfer, balance sheet optimization, insurance planning, etc.
When used in combination with our investment services, you can accomplish goals such as leaving a considerable inheritance for your beneficiaries, supporting charity foundations, and enjoying a stress-free retirement. Visit our website to sign up for a free meeting and get started with availing our holistic financial services today!
To be 100% transparent, we published this page to help filter through the mass influx of prospects, who come to us through our website and referrals, to gain only a handful of the right types of new clients who wish to engage us.
We enjoy working with high net worth and ultra-high net worth investors and families who want what we call financial serenity – the feeling that comes when you know your finances and the lifestyle you desire have been secured for life, and that you don't have to do any of the work to manage and maintain it because you hired a trusted advisor to take care of everything.
You see, our goal is to only accept 17 new clients this year. Clients who have from $5 million to $500 million in liquid investable assets to entrust us with on a 100% fee basis. No commissions and no products for sale.