Best Investing Company for High Net Worth Individuals
For high-net-worth individuals, investments are the key tool to meet their financial targets and achieve full financial serenity. Almost all other financial activities, in one way or the other, are connected with your investment management strategy. Be it your retirement plan or the legacy you want to leave behind, all of it depends on how effectively you carry out your investment and portfolio management. So, considering how important it is, you can't afford to just do it yourself with your limited time, and potentially insufficient skills. Nor should you approach ordinary advisors or private banks who may lack the deep expertise. What you need is the best investing company to advise and guide you in your investment activities. If you're a high-net-worth individual or family looking to invest their $5 million to $500 million worth of liquid assets, you will want to request a copy of our book, 7 Secrets to High-Net-Worth Investment Management, Estate, Tax, and Financial Planning, where we discuss critical aspects of investment management for affluent individuals.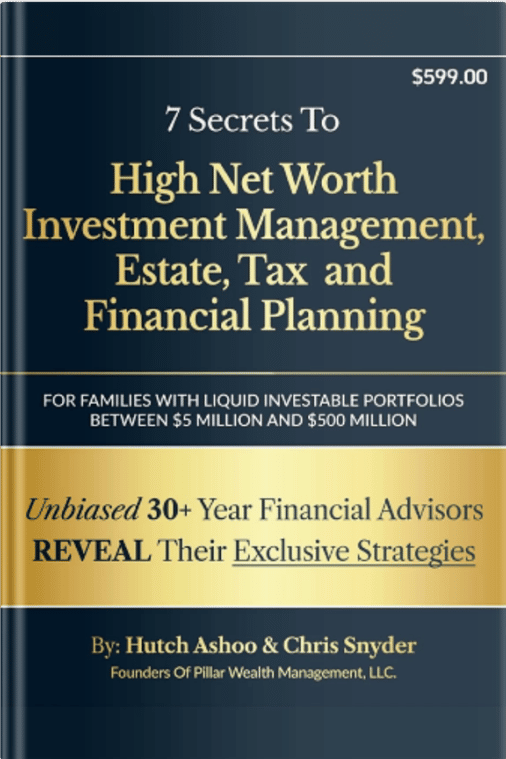 STRATEGIES FOR FAMILIES WORTH $5 MILLION TO $500 MILLION
7 Secrets To High Net Worth Investment Management, Estate, Tax and Financial Planning
The insights you'll discover from our published book will help you integrate a variety of wealth management tools with financial planning, providing guidance for your future security alongside complex financial strategies, so your human and financial capital will both flourish.
Clients frequently share with us how the knowledge gained from this book helped provide them tremendous clarity, shattering industry-pitched ideologies, while offering insight and direction in making such important financial decisions.
At Pillar Wealth Management, we have expert financial advisors and wealth managers who have been working in the industry and catering to high-net-worth clients specifically for more than three decades. Our advisors are solely focused on helping our clients achieve all their short and long-term goals and attain financial success. To that end, we offer various financial services such as investment management, risk management, tax management, and more. Moreover, we utilize more than 100 years of market data to test our portfolios and prepare them to withstand any unforeseen circumstances. So, if you are struggling to grow your money efficiently, line up a free chat with Pillar Wealth Management to talk about it.
In today's blog, we'll be discussing what investment companies do, whether you really need one, and how to find the best investing company for yourself. Let's get started.
What Does Investing Company Do?
An investing company primarily offers investment and portfolio management services that sound much simpler than they really are. These companies offer services that encompass all your investment activities, starting from setting your objectives for the investment to the execution of the investment and then reinvesting your money again.
Everyone knows that investments are a risky business. You can get lucky and score big a few times, but eventually, that luck runs out, and you are left facing risky or unprofitable investments. Investing companies are there to make sure you don't get to that point.
They carefully analyze all your investment options, using different tools and software to evaluate their profitability and performance. Then, based on your goals, they put together a portfolio. However, their work doesn't end there.
They have to constantly watch over the portfolio and see how different internal and external forces are affecting it. Based on that, they can choose to adjust the portfolio or follow an entirely different strategy altogether. They have to stay aware of all the latest rules and regulations to help you avoid any legal troubles.
They carry out the necessary research and due diligence. They keep a close eye on new opportunities so that you can capitalize on them immediately. Learn more about the intricacies involved in high-net-worth investment management by requesting a copy of our brilliant book, 7 Secrets to High-Net-Worth Investment Management, Estate, Tax, and Financial Planning.

Do I Need an Investing Company?
Even that lengthy explanation of what investing companies do is an oversimplification. In reality, they have an incredibly tough and complicated job that involves a lot of research, analysis, crunching numbers, watching markets, evaluating risks, and much more.
So, if you are still wondering, is it worth paying an investing company? Yes, it most definitely is. In case you're still not convinced, here are a few more reasons why you need to work with the best investing company.
Experience and Expertise
Even if you have been managing your investments on your own so far, you will only be familiar with your specific portfolio only. It might consist of stocks and bonds and perhaps some cash investments as well. However, that would be the extent of your experience and expertise.
In reality, there are many more investment options out there with endless portfolio options. Moreover, you may have been operating under normal market circumstances and have no idea how to manage your assets when the market turns particularly volatile or unpredictable.
This is why you need the best investing companies. Such companies have years and years of experience in handling investment assets through various market conditions. They are familiar with all kinds of assets and all the different ways to create the ideal portfolio for you. They know which assets will be best for you under which circumstances and in what kind of combination.
All this experience and expertise allows them to design portfolios that have a better chance of succeeding and that are more resistant to market volatility.Book a chat with Pillar Wealth Management to consult our experienced and expert financial advisors.
Portfolio Diversification and Asset Allocation
When it comes to investment management, one of the biggest challenges investors face is market volatility. An asset that is performing great today could suddenly start losing value rapidly the next day. If your entire portfolio consists of that one asset, you will end up in a lot of trouble.
That's why you need to prepare for the market unpredictability through risk management. Investing companies use portfolio diversification and asset allocation to help deal with such risks and protect your assets.
Despite what some investors may believe, portfolio diversification or asset allocation on their own is not enough. There are certain risks that can affect the entire companies within an industry, so your portfolio diversification will not be of any use.
That's why investing companies utilize portfolio diversification and asset allocation along with other risk management strategies to protect your wealth. Read our book, The Art of Protecting Ultra-High-Net-Worth-Portfolios and Estates – Strategies for Families Worth $25 million to $500 million, to discover other ways to protect your assets and preserve your wealth.
Portfolio Rebalancing
It's not enough to just design a portfolio and let it be. The situation in the market is always changing, and international forces can affect your investments too. Moreover, besides external changes, certain internal changes can happen too.
You might get nearer to retirement. You might develop a sudden interest in real estate. You may want to buy a second car or house. Your taxes may be sky-rocketing, so you might want to switch to assets with lower taxes.
With all these things changing, your portfolio has to be adjusted accordingly, or else it won't be as effective in helping you meet your goals anymore. Portfolio rebalancing is also another way of protecting your assets and not simply assuming your portfolio is risk-proof. We talk more about this in our fantastic guide on critical shifts for better portfolio growth.
Customized Solutions
Another reason why you really need to hire the best investing companies is that they offer customized solutions. This is crucial for maximizing your portfolio performance. Many private banks or big investment houses tend to promise high returns on your investments, but that's all there is to it.
They don't really consider why you want to invest your money and why you need those high returns. Without answering these crucial questions, again, your portfolio will not be effective in getting you closer to your goals.
The best investing companies carefully consider your needs, understand your personal goals and dreams in life, and then develop the right strategy that will help you fulfill those dreams. Learn more about the importance of personalized investment solutions for maximizing portfolio performance from our guide here.
How to Find the Best Investing Company?
Now the question is, how do affluent individuals find the best investing company? This is probably the hardest part of all. While there are numerous investment companies out there, not all of them will prove to be best for you. So, you will have to search and filter till you find that investing firm that best aligns with your specific needs and interests. Here are a few things wealthy investors can do.
Background Check
Run a background check on the potential investing companies you are interested in. This background check can reveal a lot of important information about the company that will help you decide if they are the one.
Firstly, you can check if they hold all the right credentials and certifications, which shows they have the proper training and they are licensed to provide the services they are offering. Secondly, you can make sure the company has not had any cases or complaints filed against them, which could point towards the quality of their services.
Thirdly, you can check what kind of standard of care the advisors at the investing company follow. You should always choose fiduciary financial advisors as only then can you be sure that your financial advisor is genuinely looking out for your best interests.
Finally, a background check can also sometimes reveal how long the investing company has been operating and what kind of experience they hold. For high-net-worth individuals with $5 million to $500 million in liquid assets, it's best that they choose a company that has at least a couple of decades of experience.
Services
Wealthy individuals should also take a look at the services being offered by the investment company. Investment management is great and all, but as an affluent individual, you also need risk management and tax management to grow your wealth but also protect your assets.
Therefore, make sure the investing company offers additional services for more holistic investment management. Moreover, if you want even more comprehensive financial services, consider going for wealth management instead, such as at Pillar Wealth Management.Start a conversation with our wealth managers today.
Compensation
Compensation can also make a big difference. There are fee-only advisors, commission-only advisors, and fee-based advisors. The last two kinds of advisors operate on a commission or a mixture of fees and commission basis.
The problem with commission is that it almost always creates a conflict of interest, which could hurt your financial position. So, it is best to stick to fee-only advisors as their interests are usually aligned with yours.
Final Thoughts
Working with the best investing company can sound a little scary at first. High-net-worth investors might find it hard to trust them or doubt their abilities. But once you put in the effort and find the best company for you, you will realize not only how beneficial they are but also how critical they are to your financial success.
Pillar Wealth Management is a fee-only and private wealth management firm. We work with high and ultra-high-net-worth individuals and families only because we realize the unique challenges that such people face and, accordingly, the kind of specialized services they need. Our fiduciary financial advisors are always looking out for the best interests of our affluent clients and striving to help them meet their goals. We work closely with each client to thoroughly understand all their needs and concerns. Then, based on that, we help develop customized financial solutions that best cater to their needs and wishes. Arrange a quick and no-obligation meeting with our financial advisors today.
To be 100% transparent, we published this page to help filter through the mass influx of prospects, who come to us through our website and referrals, to gain only a handful of the right types of new clients who wish to engage us.
We enjoy working with high net worth and ultra-high net worth investors and families who want what we call financial serenity – the feeling that comes when you know your finances and the lifestyle you desire have been secured for life, and that you don't have to do any of the work to manage and maintain it because you hired a trusted advisor to take care of everything.
You see, our goal is to only accept 17 new clients this year. Clients who have from $5 million to $500 million in liquid investable assets to entrust us with on a 100% fee basis. No commissions and no products for sale.