Best Private Bank for Affluent Individuals and Families
When you have $5 million to $500 million worth of liquid assets, managing your wealth is not easy. Whether it's the major financial decisions such as where to invest your money or the day-to-day accounting, everything can be difficult to oversee. That's why some high-net-worth individuals and even ultra-high-net-worth families tend to choose the best private bank for all their financial needs. However, this is not necessarily the best choice for such affluent individuals. Sure, for their banking needs, a private bank is a great option. But, when it comes to financial planning, investment management, tax planning, and other similar wealth management services, these individuals need expert and experienced help, such as how we explain in our book, 7 Secrets to High Net Worth Investment Management, Estate, Tax, and Financial Planning.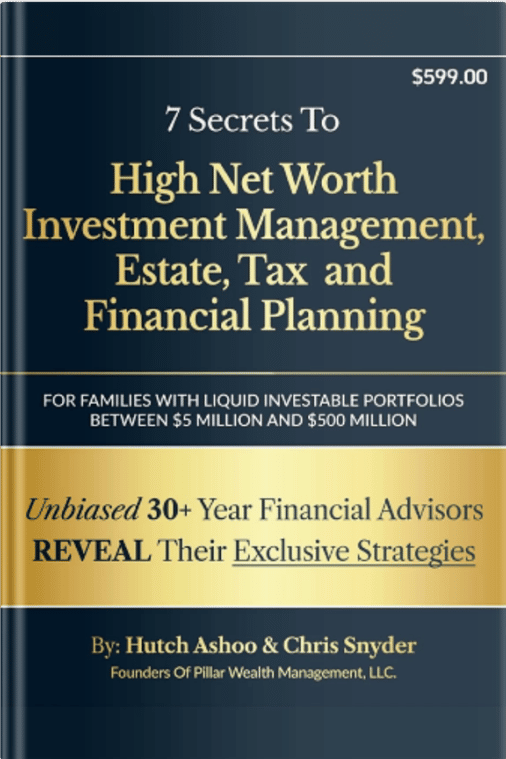 STRATEGIES FOR FAMILIES WORTH $5 MILLION TO $500 MILLION
7 Secrets To High Net Worth Investment Management, Estate, Tax and Financial Planning
The insights you'll discover from our published book will help you integrate a variety of wealth management tools with financial planning, providing guidance for your future security alongside complex financial strategies, so your human and financial capital will both flourish.
Clients frequently share with us how the knowledge gained from this book helped provide them tremendous clarity, shattering industry-pitched ideologies, while offering insight and direction in making such important financial decisions.
One of the places you can find this expert help is at Pillar Wealth Management. Our independent wealth management firm has been providing holistic wealth management services for affluent clients for many, many decades now. We strictly deal with high and ultra-high-net-worth individuals only because we understand the unique position of such people and the dedication and special skills that they demand. Accordingly, we spend ample time initially to understand each client's unique personal circumstances as well as their short and long-term goals to develop personalized financial solutions. We suggest booking a no-obligation meeting with us to learn more about our services and experienced financial advisors.
In this blog, we'll be going over when hiring the best private bank makes sense for high-net-worth individuals, whether you can trust them, and why you need to choose private wealth management firms instead. Let's get started.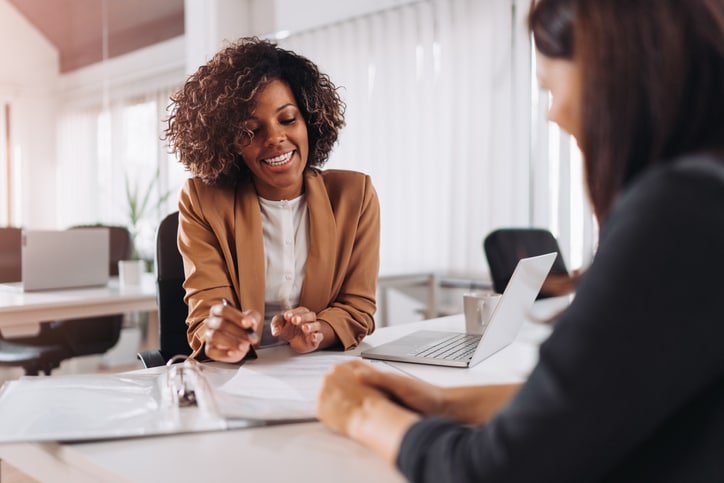 How Does a Private Bank Help You?
Private banks are certainly an important financial institution. They do provide an important financial service that can be very beneficial for high-net-worth individuals, and that financial service is banking. Just like every other individual, high-net-worth as well as ultra-high-net-worth individuals and families require banking services to manage their daily expenses and transactions.
For such affluent individuals specifically, private banks are excellent because they provide specialized banking services. They can help you open various checking and savings accounts with additional features that the rest of their customers may not be offered. You can make use of debit and credit cards, pay your bills easily, and even get business loans.
When you want to avail all these services, private banks are great. However, private banks also tend to offer other services sometimes, such as investment management, retirement planning, and estate planning. These are good for the average American but not suitable for high-net-worth individuals. There are several reasons behind this, but for one, it's not easy to trust banks.
Can I Trust a Private Bank?
This is an important question that all high-net-worth individuals need to ask before choosing to work with anyone. With $5 million to $500 million in liquid assets, it can be hard to trust just anyone with the financial decisions that could impact your entire financial position and future.
Besides all the benefits of private banking, there are some drawbacks as well, and one of the biggest drawbacks is that you can't trust them. There are two aspects behind this.
Standard of Care
Firstly, private banks tend to follow a relatively lenient standard of care. They follow the suitability standard rather than the fiduciary standard. According to the suitability standard, the advisors at the bank simply have to suggest options that are suitable for you.
They can't be dangerous options or products that will cause you losses. However, they don't always have to be the best either. So, the private bankers have this middle ground where they can suggest whatever they want as long as it is suitable for you.
As you can imagine, when these bankers have this freedom, they tend to choose products that are ultimately more profitable for them. Again, these products or services will not be bad, but since they are not intended for your best interests, they won't precisely help you achieve your goals and targets in an efficient manner either.
Similarly, they might not always disclose all relevant information to you either, which will prevent you from making a fully informed decision. They won't necessarily act in good faith either because, ultimately, they don't care about you. They care about the bank and its shareholders and how they can benefit them rather than you.
As a result, this can be dangerous for you at times. Read our book, The Art of Protecting Ultra-High Net Worth Portfolios and Estates – Strategies for Families Worth $25 million to $500 million, to discover other factors that could put your wealth at risk and how you can protect your assets.
Compensation
Another factor that makes it hard to trust your advisor is how you are compensating them. Usually, there are fee-only advisors, compensation-only advisors, and fee-based advisors. Compensation-only advisors mainly earn through commissions.
Every time you buy or sell certain products, they earn a commission from it. Fee-based advisors are somewhat similar as they do charge a basic fee for their services. But they also charge a commission additionally for some other services.
As you might have realized, the whole commission situation can sometimes create a conflict of interest. As was the case with the suitability standard, commission-based advisors can be tempted to steer clients towards those products and services that help them earn high commissions rather than those which are the best for the client.
That's why fee-only advisors are the best for high-net-worth individuals with $5 million to $500 million in liquid assets. These advisors charge a fixed percentage of the total assets under management for their clients. Since their fees are directly proportional to your net worth, it is in their best interests to help you achieve your goals and work towards your best interests.
Both of your goals are aligned, and so, it is easier to trust them. Private banks don't usually have fee-only advisors, so it can be hard to trust them with your considerable wealth.
When you are looking for fiduciary as well as fee-only financial advisors, look no further than Pillar Wealth Management. Our advisors are fully devoted to helping you achieve all your goals and targets efficiently and attaining financial serenity. Start a free discussion with us today.
Why Choose the Best Private Wealth Management Firm Over the Best Private Bank
So, then if not private banks, then where should high-net-worth individuals go for their financial needs? Well, there are a lot of financial institutions out there. There are big investment houses, brokerages, and many other similar places.
However, the best option for such affluent individuals is to go for private wealth management firms rather than private banks. As discussed earlier, private banks are hard to trust. But you don't face the same problem with wealth management firms as they offer fiduciary services and work on a 100% fee-only basis.
Here are some more reasons why affluent individuals need the best private wealth management firm over the best private bank.
Services
High-net-worth individuals need comprehensive and holistic wealth management services, which can be hard to get at private banks. They might over investment management but not provide tax planning services. They might help with retirement planning but not be familiar with financial planning.
Consequently, these individuals may have to work with several institutions to avail all the services they need. However, working with lots of different organizations will drive up their costs and not allow them to execute a synergized and effective wealth management strategy.
Wealth management firms, like Pillar Wealth Management, offer all these services and more under one roof. We also suggest requesting a copy of our book, 7 Secrets to High Net Worth Investment Management, Estate, Tax, and Financial Planning, to learn how important all these services are for the financial success and security of high-net-worth individuals.
Experience and Expertise
Private banks also lack the experience and expertise that high-net-worth individuals require. For private banks, their expertise lies in banking services, and that's why we say they are a good option for banking services. However, all the other financial services usually fall outside their area of expertise.
Affluent individuals with $5+ million worth of liquid assets require the best of the best financial advisors who have a high level of expertise and knowledge in all wealth management services. Besides that, private banks also don't have a lot of experience with high-net-worth clients specifically.
This is because they tend to work with people with $100,000 as well, and so they have a wide customer base which is made up of all sorts of clients. Wealth management firms tend to deal with high and ultra-high-net-worth clients only.Schedule a free chat with our financial advisors who have been working with high-net-worth clients specifically for more than three decades now.
Customization
Private banks and a lot of other financial institutions don't usually offer customized solutions either. Sure, they will ask you about your risk tolerance as well as desired returns. But, firstly, that's not enough for true customization and targeted financial solutions.
And, secondly, even after considering those factors, the bank will offer you fixed investment packages that have a record of being profitable and safe for the bank. These packages don't always align with your goals and best interests and, therefore, don't really help you achieve your goals.
We suggest reading our brilliant guide about portfolio performance to learn how crucial customized plans are for your financial success.
Active Vs. Passive Management
Private banks and other financial institutions also tend to focus more on an active money management style. While this can help bring in high returns in the short run, it also comes with excessive costs and high tax bills.
Wealth management firms utilize an optimal balance of active and passive management styles, which allows individuals to reap high returns without the high risks, costs, and tax bills. You can read our handy guide on portfolio growth to learn how exactly active and passive management impacts your financial health.
Final Words
For high-net-worth individuals, managing their $5 million to $500 million worth of assets is not easy to do all on their own. So, it really boils down to choosing the right partner to work with. Private banks can seem like a good option, but that's only when you are searching for banking services from the best private bank. For all other financial services, though, such as investment management, retirement planning, and so on, affluent individuals are much better off with a private wealth management firm.
At Pillar Wealth Management, we have been dealing with high-net-worth individuals along with ultra-high-net-worth families for more than six decades altogether. Our extensive experience allows us to design effective and efficient wealth management strategies for our clients to help them attain true financial serenity, where they don't have to worry about anything. We offer customized financial solutions to help our clients achieve all their goals. Our fiduciary and fee-only advisors are always looking out for your best interests. Line up a quick and free discussion with Pillar Wealth Management today.
To be 100% transparent, we published this page to help filter through the mass influx of prospects, who come to us through our website and referrals, to gain only a handful of the right types of new clients who wish to engage us.
We enjoy working with high net worth and ultra-high net worth investors and families who want what we call financial serenity – the feeling that comes when you know your finances and the lifestyle you desire have been secured for life, and that you don't have to do any of the work to manage and maintain it because you hired a trusted advisor to take care of everything.
You see, our goal is to only accept 17 new clients this year. Clients who have from $5 million to $500 million in liquid investable assets to entrust us with on a 100% fee basis. No commissions and no products for sale.