Best Investment Services for Affluent Investors
Investments are a great tool used by numerous individuals around the globe to increase their wealth. These individuals are always on the hunt for the best investment services that can help them with the best advice and management. While some opt for services that offer the cheapest rate, others look for services with the best advisors. The goal, however, remains the same. As stated in our guide for families with $10 million+ in liquid assets, affluent investors don't always tend to get the services they deserve from their investment service providers.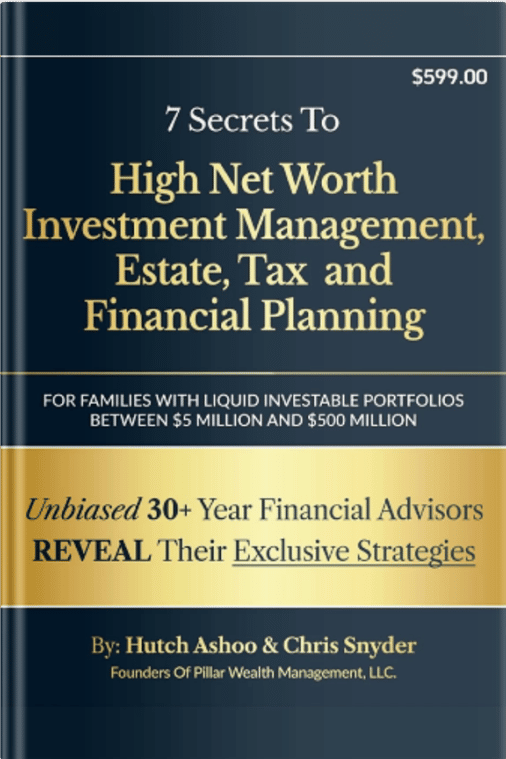 STRATEGIES FOR FAMILIES WORTH $5 MILLION TO $500 MILLION
7 Secrets To High Net Worth Investment Management, Estate, Tax and Financial Planning
The insights you'll discover from our published book will help you integrate a variety of wealth management tools with financial planning, providing guidance for your future security alongside complex financial strategies, so your human and financial capital will both flourish.
Clients frequently share with us how the knowledge gained from this book helped provide them tremendous clarity, shattering industry-pitched ideologies, while offering insight and direction in making such important financial decisions.
Very rarely do individuals with $5 million to $500 million find firms like Pillar Wealth Management who serve their interests. Most of the time, affluent investors get stuck with the same pre-set investment plans as everyone else. If you want to get a fully personalized investment plan made, contact us for a complimentary meeting.
If you're still a bit hazy on some of the things about investment services, keep reading this handy guide!
What Are the Best Investment Services?
Investment is an integral part of growing a person's wealth. It helps you make more money with the current amount you have. In theory, the idea sounds brilliant. Who wouldn't want to use their savings to earn even more money?
Reality is not so kind, though.
Just as there is a "yin" for each "yang," there is risk associated with the return you get from your investments. When an investment provides a higher rate of return, it typically carries a higher risk too.
However, unlike the taijitu symbol, there are some things you can do to alter the balance of risks and returns. And that's the job of investment services – or rather, that should be their job.
The type of investment service you work with can have a major impact on the kind of value you get from this financial venture. Investment services fall under the broad umbrella of financial advisory services. Financial advisors are individuals and firms who help individuals with various aspects of their financial life.
Here are the four types of financial advisors that can be considered for investment services:
Investment Advisors
Investment advisors can usually be found in large banks and similar financial institutions. Their main role is to analyze your current investment portfolio and give advice on the next transactions you need to make.
They'll tell you what securities to buy, which ones to sell, and which ones to hold. It's a very simple service. They will ask you the return rate you wish to achieve and the level of risk you're willing to take. According to those numbers, they'll start suggesting investments.
Investment advisors are typically unregistered and non-fiduciary advisors. When a manager has a fiduciary duty to you, they are legally required to only entertain your interests when providing investment advice. They cannot work within circumstances where there are other conflicts of interest. Fiduciary advisors must also undergo rigorous training and have relevant experience in the field. You can find more details on fiduciary advisors in our comprehensive guide.
Investment advisors will typically only do one job: provide advice. They won't conduct the transactions for you. You'll have to go somewhere else for that.
Investment Brokers
Investment brokers are often used alongside investment advisors. Their job is to conduct the transactions of securities on behalf of investments. They will buy and sell securities according to what you ask them to do. Though some investment brokers may provide investment advice, most will only do what you ask them to.
Investment brokers are also mostly non-fiduciary advisors. Another difference between investment advisors and brokers is in the way they get paid.
While most investment advisors will charge the typical annual fees, investment brokers are more likely to make their money off of commissions. But why is this a problem?
Commissions usually end up being a lot more expensive to investors in the long term. Plus, they also create a situation where there can be conflicts of interest. For example, your broker may be tempted to advise you to buy securities that earn them higher commissions. They may also benefit from undertaking more transactions and moving your money around more often. For more information on how commissions and other undesirable pay structures impact your portfolio, check out our guide.
Any place that charges commissions and product-based fees can hardly be considered one of the best investment services.

Robo-Advisors
Robo-advisors are a fairly new addition to the investment world. They utilize complex AI algorithms to automate the investment process. Compared to investment advisors and brokers, they're a fairly low-cost option for investors.
Robo-advisors will usually invest in ETFs and index funds, which is one of the causes behind their lower fees. Though robo-advisors invest your money for cheap, they're typically not something we recommend to affluent investors.
That's because there is almost no element of human interaction and no financial planning. When you have a larger wealth, you need an experienced human advisor to guide your finances with a personalized plan for your specific situation and goals.
A robo-advisor won't do that. The robo-advisor won't protect you against things like:
-Forgetting to add contributions to your investments
-Failing to increase contributions
-Buying high or selling low
-Making emotional decisions and losing money
The importance of personalized investments for high net worth and ultra-high net worth families is explained further in our guide for families with $10 million+ in investable assets.
Clearly, robo-advisors are not the right type of investment service for affluent investors either. So, who is? We've found that it's wealth managers.
Wealth Managers
Wealth managers are a type of financial advisor that exclusively works for a certain caliber of clientele. Firms like Pillar Wealth Management help perfect the financial lives of families worth between $5 million to $500 million.
Not only are they one of the best investment services, but they also provide a whole host of financial planning, tax management, and other financial management services. Wealth managers holistically manage all aspects of your financial life.
Pillar Wealth Management experts form all their strategies around the goals you have and the life you want to live. We want you to live a life without stress and with enough money to live comfortably. Our fiduciary managers only earn their money from a yearly annual fee.
Our only focus is to help minimize your risks and maximize your returns. Interested in investment services for ultra-high net worth families? Schedule a complimentary chat with us now.
Why High Net Worth Investment Management is Different
Though many advisors think that the needs of all investors can be defined by their risk appetite and return requirements, the best investment services realize that affluent investors often have very different needs.
One of the big reasons behind why high net worth investment management is different is the size of wealth involved. When high net worth investors with over $5 million are looking for someone to manage their investments, the job is a lot more complex than managing a portfolio worth $100,000 or less.
Greater wealth means that these investors carry a higher risk, are charged higher taxes, and have more to lose. Plus, it can often be detrimental to the financial health of an affluent investor if you only look at their investment portfolio in a vacuum. You need a holistic service that tends to all aspects of their finances.
The goals and priorities of each investor are also very different. Pre-set investment plans will rarely accommodate the complicated lifestyle needs of wealthy investors. Many high net-worth and ultra-high net-worth individuals aren't looking for aggressive returns when they invest. Quite a few just want a steady source of income that allows them to live the life they want.
Investment services for ultra-high net worth clients should especially be considerate of how they handle their money. The risk of loss is much higher, and the management of their portfolio requires utmost care. Many big investment services rarely have the time to personally tend to the needs of ultra-high net worth clients, and you tend to suffer in those cases. For more information on the best investment services for ultra-high net worth clients, read our book on "The Art of Protecting Ultra-High Net-worth Portfolios and Estates – Strategies For Families Worth $25 Million To $500 Million."
What You Can Get by Using Investment Services
Investment services have the power to completely transform the lives of individuals. Whether this transformation is positive or negative will depend highly on the advisor you choose.
That said, let's explore some of the benefits affluent investors can enjoy by using investment services.
Goal Establishment
Your goals and future aspirations are what you live for. Your real goal will never be some arbitrary number for returns. That's not how people work.
The right investment and wealth advisors are experienced in gauging your true goals and priorities. Pillar Wealth Management recognizes that the real goals of a person revolve around the lifestyle they want, the achievements they desire, and the legacy they wish to leave. We recognize that goals can revolve around anything you care for.
By just pulling a number out of thin air and setting it as your investment target, you're harming your portfolio. By establishing how you want to live your life, you can start focusing on optimizing your portfolio. Unable to figure out your goals? Book a complimentary meeting with Pillar Wealth Management today!
Financial Security
When people ask about what you can get by using investment services, this is one of our first answers. Financial security is a phenomenon that occurs when an individual has enough money every month to live a stress-free life in the way that they want.
The best investment services know that managing investments is all about providing the right balance of return and risk for the investor. Only chasing returns will rarely ever yield sustainable results in the long run.
When an individual says that they want a well-performing portfolio, their true needs are that they require financial security without taking on too much risk. For instance, a retiring investor may ask something along the lines of "Is it possible for me to earn $40,000 every month without endangering my wealth?".
Balance is essential. It'd be absurd to think that all investors want to make the highest returns possible. Pillar Wealth Management, for example, manages your asset allocation ratio in a way that both minimizes risk and optimizes returns according to your priorities.
A Financial Plan
You can never get financial security without a financial plan. A financial plan is a tool that balances risk tolerance and returns requirements to find your optimum investment portfolio.
For example, some investors will need a conservative portfolio to cater to their demands of wealth protection and moderate growth. Perhaps, the income they require from their investments is not that much. On the other hand, some individuals will need moderate or balanced portfolios to achieve their lifestyle goals.
Financial security should always be one of the top priorities for both you and your advisor. Your investment performance will mean nothing if the greed for returns takes precedence over financial security. You'll put yourself under more risk than you can bargain for.
Your lifestyle requirements, values, and priorities are matched with your financial situation to establish the investment performance required for financial security.
Choosing the Best Investment Services
As we said earlier, finding one of the best investment services could change your life for the better. Though your choice of service will depend on your individual situation and needs, we recommend that affluent investors opt for wealth managers.
Not only will fiduciary wealth managers provide the benefits mentioned above, but they will also help you in services like estate planning, costs and tax reduction, insurance planning, and so on.
Choosing a wealth manager is not an easy job. However, here's a list of some of the basic qualifications they should have:
Relevant Experience:

the wealth advisor should previously have successfully managed the investments of affluent investors.

Goal Tracking Capabilities: the wealth advisor should be able to optimize your portfolio to meet your goals. Read more about portfolio optimizing paradigm shifts here.
Asset Allocation Knowledge:

the wealth advisor should be able to create a consistent asset allocation strategy to minimize risk.

Investment Rebalancing Skills:

the wealth advisors should be able to rebalance your portfolio to balance returns and risks.

Fiduciary Duty:

the wealth advisors should only work with your interests in mind.
Conclusion
The best investment services can help investors sustainably grow their wealth and provide financial security to help them live their desired lifestyle. Choosing the right investment service is paramount. Take your time and interview different advisors to see whether they'll be able to meet your needs. Don't be afraid to ask difficult questions about costs, fees, and fiduciary duty.
For high net-worth and ultra-high net-worth families with $5 million to $500 million, a wealth management firm like Pillar Wealth Management can provide tremendous value in all aspects of their financial life. If you're such an individual and feel you need help living with financial security, schedule a meeting with us for free.